Late Shri Karpoor Chandra Kulish
Karpoor Chandra Kulish, a celebrated doyen of Hindi Journalism and the founder of Rajasthan Patrika was a man who donned several hats in his lifetime, he was a poet, a writer, a journalist, a Vedic allegorist and a prolific social thinker. Born in the Tonk district of Rajasthan, Shri Kulish was informed by a deep regard for the Hindi language which made him gravitate towards a career in scholarship, pedagogy and Hindi literature. He published several of his poems, songs and writings- for which he is widely celebrated and remembered. He has been decorated with the title of 'Sahitya Ratna' by the Hindi Sahitya Sammelan, Prayag.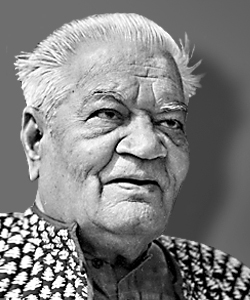 A pervading concern for deep societal issues and ailments however, pushed Shri Kulish into a career of journalism. In 1951, he began working as a clerk at a newspaper in Jaipur called 'Rashtradoot' before his flair for journalism shone through and he was progressively tasked with various responsibilities such as of handling the magazine, editing, reportage and penning a weekly column under the pseudonym of 'Ghumakkar'. After five years of working at 'Rashtradoot', he faced a mounting realization that there was a pressing need for an independent regional newspaper in Rajasthan that could compete with national dailies and that would most importantly, be free of political influence.
To realize this dream, Rajasthan Patrika was set up as an evening newspaper in 1956 with the humble borrowings of Rs. 500 (roughly equivalent to USD 40 at the time). "In the press corridor with the help of two chairs, one table, one typewriter and two and half men, a tabular-sized two paise-a-page Rajasthan Patrika took shape. Like a paper boat it embarked on the grand sea of journalism, riding on the strength of good wishes and blessings." Since then, Shri Kulish painstakingly developed Patrika as a synonymy for journalistic grit and courage. Under his helm, Patrika gained the adage of being 'the newspaper with a soul'.
Karpoor Chandra Kulish has repeatedly espoused the inherent purpose of the Patrika's existence to be a devotion to social responsibility through unwavering journalistic ethics. He opines, "Mere use of strength may often lead to failure. Even tactical moves and ploys may lead to short-term successes. However, long-term and sustained success comes from timely use of conscience and courage." It is hardly surprising that Shri Kulish considered Patrika's operating policy as one that is untouched by party affiliations, but one that stands tall in favor of public welfare.
Shri Kulish remains a shining source of inspiration by setting the foundations of an organizational culture based on profound trust and shared ownership among all members of the Patrika family. As envisioned by Shri Kulish, Patrika is more than a newspaper; more than an organization- Patrika represents a people, a social unit. In his words, "A crowd cannot be called a society. Rather, the individual is the society. The land on which we are standing is the country and if we try to connect with this fundamental unit, it is only then that the society becomes a society, an institution becomes an institution and the country truly becomes a country."
Works
Some of his well known works are:
'Saat Sainkda'-poetic composition
`Amerika Ek Vihangam Drishti'- a travelogue on America
'Mein Dekhta Chala Gaya'- travelogue during the Emergency rule in India
'DharaPravah' - Biography
'Polampol'- segment on current affairs
Vedas as Science'
'Ved Vidya Praveshika'
'Shabd Vedas' compilation of the four Samhitas.
Awards and Honors
For his exemplary contribution to the field of journalism, Shri Karpoor Chandra Kulish was awarded the Haldi Ghati Puraskar in 1983, B. D. Goenka Award by the Indian Express Group in 1999 and was also a recipient of the prestigious Media India Sita Award. In 1993, he was awarded the Dr. Hedegwar Prajna Award by Kumar Pustakalaya, Calcutta. The 'KC Kulish International Award for Excellence in Print Journalism' has been instituted in memory of his legacy and has been conferred on illustrious journalists and their teams from diverse national backgrounds.

Gulab Kothari (Editor-in-chief, Rajasthan Patrika)
Dr. Gulab Kothari is the Editor-in-Chief of Rajasthan Patrika and is one of the most celebrated Indian journalists of contemporary India. His signature brand of journalism not only envisages media as the vessel for deep social impact, but also a medium to nudge society towards a holistic moral and spiritual reawakening. As a journalist he made innovative experiments in his writings and the subjects he chose speak volumes of his editorial competence, profoundness of thought and power of mobilization. His writings reflect the agony of change and transformation.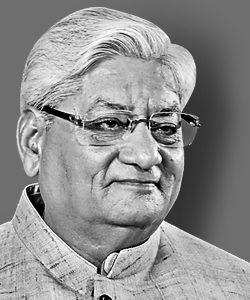 Born on January 6, 1949 in a historic town Malpura situated in the Tonk district of Rajasthan, Gulab Kothari has evinced deep interest in folk arts and folk culture. His attempts to explore the cultural fabric of Rajasthan through extensive travels into its villages and towns find reflection in the nuanced portrayal of folk culture in his writings.
Gulab Kothari earned his Ph.D. Degree from the Intercultural Open University, the Netherlands, in 1995. His thesis entitled 'Newspaper Management' has been published and has since been a widely referred work by the students of journalism in various Indian universities. Dr. Kothari was awarded a D.Litt. in Philosophy by his alma mater in 2002 and his thesis entitled 'Body, Mind, Intellect' is a widely read work.
Dr. Kothari has pushed Patrika beyond its conventional role of a media house and redefined media's responsibility towards society. Gulab ji or 'Bade Bhai Saahab' as he is fondly called by all members of the Patrika family, has been the inspiration behind several of Patrika's public campaigns. He successfully laid the ground work to create mass awareness on a wide spectrum of issues such as depleting sources of drinking water, indiscriminate urban sprawl, degradation of environmental resources and ecological harmony in Rajasthan. In response to his clarion call, the campaigns developed a rich participative character, with thousands of common citizens rallying to support and volunteer for these causes. When famine struck Rajasthan his call for donating a handful of grain inspired lakhs of people who generously contributed bags of grain which went a long way in saving many lives from starvation. When the nation was struck by calamities like Kargil War and calamities such as the 2005 tsunami, Mr. Kothari mobilized the citizenry's support through his writings and soothed the agonized state of the victims.
Works
Mr. Kothari has a command on both Hindi and English and has a natural flair for writing. Some of the popular books authored by him are as follows:
Manas (Hindi Edition four volumes-
Volume 1: Patterns of Human Mind;
Volume 2: Individual and Society;
Volume 3: Human Body) - It is a classic based on the Vedic values and shows the path to a balanced life. The work has been translated into 10 languages;
Communication - The Soul of Evolution (English): – It is a classic book written from a Vedic perspective of communication. Its Hindi translation is published as Sampreshan;
Nari (Hindi) – Dr. Kothari gives a vivid portrait of woman as delineated in our scriptures and ancient literature;
Colourful Textile of Rajasthan (English) – It provides detailed information of the textiles and handicrafts of Rajasthan;
Spandan (Hindi) I & II - A collection of thought provoking articles;
Spand (Hindi)- Collection of poems portraying the present;
Dharm, Arth, Kaam (Maya), Moksha- The four narrative poems elucidating the four pursuits of human life;
Samachar Patra Prabandhan – The Hindi Edition of Newspaper Management in India;
Photo Journalism (English);
Chhayahankan (Hindi) – An informative and useful reference book for photo journalists;
Jan Sanchar Vigyapan – A book on fundamentals for the students of journalism;
Likhavat aur Apaka Vyaktitva – A book on the analysis of handwritings;
Aadya I & II;
Stepping stones to spirituality;
Krishan Tatv ki Vagyanikta;
Simatataa Stri Tatv;
Ved Vegyanik Drashti.
Awards and Honors
Bhartendu Harishchandra Puraskar (for journalistic writing) (1995-96) for special recognition of the book Photo Journalism
Bhaskar Puraskar (2003) – for dynamic leadership by Bharat Nirman
Acharya Tulsi Samman (2003)-for upholding human values in journalism.
Swami Shri Vishnu Tirth Samman (2004) – in recognition of his classic book Manas by Swami Vishnu Tirth Seva Sansthan, Ujjain
Samaj Ratna Award from Shri Gyan Seva Sangh, Bangalore
Naitik Samman (2006)- For upholding moral values in public life from Gulzari Lal Nanda Foundation.
Indian Vegetarian Congress (2006) - in recognition of the emphasis on the necessity of vegetarianism in the world
Bhamashah Award (Bhamashah Seva Samman) (2007) by the Bhamashah Memorial Trust, Kolkata,
Rashtra Gaurav Award (Pride of the Nation) (2007) by His Holiness Guru ji Acharya Guruvanand ji of Shree Bhramarshi Ashram in Tirupathi (Andhra Pradesh – India).
Okido Fourth Dan (2007-08) by Okido Joko Kai Mithyo Yoga, Italy.
Doctor of Philosophy from Oki Do Global Research Institute, Italy (2007-08)
Pt. Deendayal Upadhyaya Sahitya Samman (2009) for Literature (Shri Chhoti Khatu Hindi Pustakalaya, Rajasthan)
GIANTS International Award (2010) for excellence in Journalism